by Anne Schuster Hunter
A shout-out! To baroque Venice, city of spices, lagoons and golden light. Another one! To Naples, queen of the south, home of sun, surf and brilliant blue skies since time immemorial.
Venice and Naples are at the home of one of baroque music's biggest stories, Italian opera. Italian opera swept Europe with wildfire popularity from the 1600s on; Venice and Naples were where it was developed and where its participants trained. For decades, big-voiced Italian divas and divos toured the continent, transporting chilly, pale Northerners into raptures of warm delight with their sweet southern songs full of grace and speed and light. Words and music stir up a special kind of magic in Italian music, and baroque Europe was bewitched by it.
Musical instruments don't have words, but they offer ample compensations.
But what about music without words? Does the magic stop when the words go away? Tempesta di Mare answers that question with the program A Tale of Two Italian Cities: Venice and Naples. It showcases two generations of instrumental music from the very heart of musical theater.
And as it turns out, you don't have to have vocal cords to be a diva. Italian music of the baroque is just as entrancing without human voices.
Musical instruments don't have words, but they offer ample compensations. Composers started writing operatic lines for instruments that leaned into their mellow timbres and nimble action. Violins, recorder and lute in The Tale of Two Italian Cities carry on conversations that haven't got any words at all—not even titles, mostly. But they're so expressive that you wouldn't want them any other way.
Composers mastered ways to capture fleeting moods and deep emotions, producing moments like the
Vivaldi lute concerto in D whose slow movement would melt a heart of ice. They found ever more canny ways to evoke sights and scents and even the sensation of mists over the lagoons at night, as in Vivaldi's La Notte.
They wrote music that makes solo instruments speak out from the heart, as if they were making up a confession or a declaration of love right on the spot, like Mancini's recorder concerto in A minor. Italian music loved the spontaneous.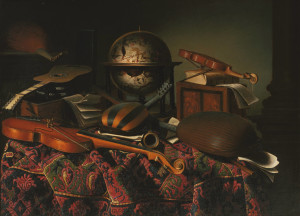 Italian opera may have been the headline event in musical Europe. But instrumental music like this was also tremendously popular all across the continent. It was an essential part of everybody's la dolce vita at church and court, banquets, in between acts in the theater, candlelight strolls, and playing music with friends at home, maybe after a nice Italian dinner.
That's a good idea! Why not sit down to an old-fashioned Venetian risotto all wafting cloves, ginger, nutmeg and cinnamon, or a fresh Neapolitan spaghetti alle vongole? Or even a pizza (a Neapolitan staple for centuries before getting its official name there in 1889). And maybe a glass or two of fine Italian wine. For this Italian feast for the ears, you only need two words: buon appetito!
Images:
Liz Gilbert a.k.a. Julia Roberts in Naples (Eat, Pray, Love)
James Bond a.k.a. Daniel Craig on a boat in Venice (Casino Royale)
Bartolomeo Bettera, Still Life With Musical Instruments, 17th century
Fine Arts Museums of San Francisco | Photo: commons.wikimedia.org