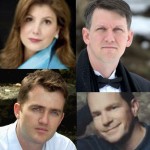 Tempesta Sings: Bach, Praetorius, and Rosenmüller with a truly delectable vocal quartet:  Laura Heimes, soprano; Drew Minter, countertenor; Aaron Sheehan, tenor; and David Newman, baritone.
Soprano Heimes is well known to audiences as Telemann's gallant heroine in the cantata Ino, 2011. Baritone Newman has been responsible for many of Tempesta's most memorable operatic roles, including the darkly alluring monster Polifemo in Handel's Aci, Galatea and Polifemo, 2009. Tenor Sheehan brought us A Secret Flame, the program of French song that was one of last season's highlights.
Together, the three were among the luscious voices in Tempesta's 2012 Art of the Prophets program, also featuring German vocal music and one of Tempesta's most enthusiastically received shows. "I feel privileged to have heard it," noted Local Arts Live.
They are joined by Drew Minter for Tempesta Sings. Minter is one of the world's finest countertenors and performs regularly with most major American and European early music opera companies and orchestras. A pioneer in the field, Minter remains top of the crop.  Just weeks ago, Corinna da Fonseca-Wollheim gave his wonderful voice a shout out in The New York Times for the "warm and vibrant tone that remained even across his dazzling runs" in his portrayal of Egeo in Handel's Teseo at Alice Tully Hall.
Minter hasn't appeared with Tempesta since 2005 when he directed and starred in Tempesta's staging of the Handel chamber opera Clori, Tirsi and Fileno, a performance of "zest and virtuosity," wrote Peter Burwasser in Philadelphia City Paper, providing "that sublime sensation of the suspension of time that great theater can convey." This is Minter's first return since then. It's been too long, Drew! Welcome back!
–A. S. H.
Get tickets…