Johann Sebastian Bach: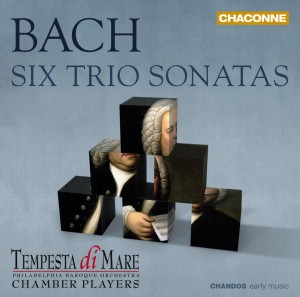 Six Trio Sonatas, BWV 525-530
reimagined for chamber ensemble

Bach compiled his set of six trio sonatas for organ during the late 1720s. They are thought to have been put together as training material for Bach's son Wilhelm Friedemann and can be grouped among other pedagogical keyboard collections such as the Inventions and the Well-Tempered Clavier. They are unique, however, in transferring the typical trio sonata texture, a popular style normally played by ensemble, to a single instrument. In Bach's originals the right and left hands take the top two parts while the pedals perform the bass line. The first movement of Sonata No. 4 was originally composed for ensemble and the unique formal and stylistic characteristics of the collection suggest that other movements, too, started life away from the organ.
Taking this on board, we have re-imagined these works in arrangements for chamber ensemble, using scorings typically adopted in the performance of trio sonatas in Bach's time from our full ensemble of six players to an intimate harpsichord-lute duet. Bach was himself a serial adapter and re-arranger of his own works and this recording takes on his understanding of the musical work as a fluid entity, able to assume as many forms as there are purposes for them.
This recording will become another instant Tempesta classic when it hits the shelves in early June 2014. So get your copy today!
You can get your copy from us today, or in the lobby at our June 7 concert, Elements, at the Kimmel Center. All the music is also available for download now from Chandos at The Classical Shop.
---