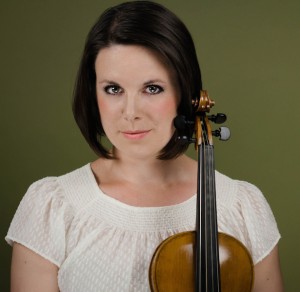 Tempesta di Mare's Artist Recital Series continues this month with Rebecca Harris performing music from seventeenth-century Austria by Heinrich Biber, including selections from his evocative "Mystery" Sonatas and his stunning unaccompanied Passacaglia, forerunner to Bach's famous Chaconne, on Sunday, April 13, 2014 at Woodmere Art Museum in Chestnut Hill and on Sunday, April 27, 2014 at Powel House in Center City. Both performances will take place at 3:00. For tickets and information: tempestadimare.org or 215-755-8776.
Violinist and composer Heinrich Ignaz Franz von Biber (1644-1704) rarely gave concerts, but was nonetheless held in great esteem as "the best violin composer of the 17th century" (Charles Burney) on account of his "Mystery" Sonatas. This unique collection of short sonatas and its closing passacaglia received their name from their association to the mysteries of the rosary. Completed around 1676, these sonatas remained an enigma until 1905, when their re-discovery made Biber an instant celebrity.
In his "Crucifixion" Sonata, Biber uses a seldom-encountered technique known as scordatura, in which the violin's strings are deliberately retuned out of standard tuning. While a common tool on the guitar and in folk and rock music, scordatura is unusual on bowed instruments.
In Sonata "Representativa," Biber makes use of animal and bird sounds, directly taken from Athanasius Kircher's 1650 publication Musurgia Universalis, one of many major works by the German Jesuit scholar and polymath.
Harris plays these distinctive pieces with technical expertise and a style that is all her own. "The pieces are very quirky, but so interesting," says Harris. "I love their evocative nature, and the bird-song images are adorable!"
Other selections on the program include Sonatas in the Dorian Mode and in E minor. Rebecca Harris will be accompanied on theorbo by Tempesta di Mare Artistic Co-Director Richard Stone.
Tempesta di Mare's Artist Recital Series are intimate events in informal settings, curated, narrated and performed by Tempesta di Mare musicians.
Use the button below for tickets to Rebecca Harris's recital.
---