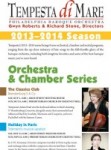 Tempesta di Mare's 2013–2014 subscription brochure has hit the mail stream. In case you're downashore, uppamountains or don't receive our mailings, you can see the "poster" side of the brochure with our full Philadelphia Concert Series schedule. You can order your Season Passes (subscriptions) now. Single tickets become available after September 1.
Our 2013–2014 series offers 5 new programs in our main Orchestra and Chamber Series, 3 new programs in our Artist Recital Series and, starting next season, we play our spring orchestral concerts at the Kimmel Center!
You can get a pass for all eight orchestral, chamber and recital programs for Center City (8-Concert Pass, Center City) Chestnut Hill (8-Concert Pass, Chestnut Hill) or just the Orchestra and Chamber Series (5-Concert Pass).
Season Pass holders enjoy preferred seating and complete ticket-exchange privileges for all tickets.
Drop us a line if you'd like to receive a printed brochure through the mail.
---